$39.97 $119.90
Certification: CE/EU, UL.
🎁 LAUNCH

 SALE
:
FREE SHIPPING WORLDWIDE!
THE RUSTIC & ECO-FRIENDLY KITCHEN TOOL SET!



⭐⭐⭐⭐⭐ Our customers love it! Be sure to read our reviews below!
Want to experience the real fun of cooking?
It's time you replace your plastic or metallic kitchenware with these beautiful and cookware-safe Natural Teak Wood Kitchen Utensils. 
Whether you are a professional chef or beginner cook,
our
Natural Teak Wood Kitchen Utensils are guaranteed to introduce elegance, safe and stylish food processing into your kitchen!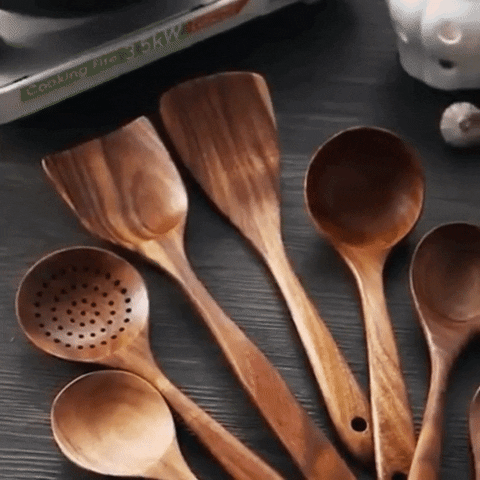 Made of premium quality Teak wood,
close-grained hardwood with high organic oil, and silica content that is known for being one of the hardest, strongest, and most durable of all timbers.
Teak Wood is non-toxic, with
unique and beautiful natural grains which protect your non-stick cookware from scratches!

Another aspect of these utensils is their ability to absorb lesser heat so that when you cook at high temperatures, your hands remain safe.

A very attractive addition that will bring class an aesthetically pleasing ambiance and sophistication to your kitchen!
Beautifully crafted, soft to touch, lightweight, and very solid basically defines what great workmanship is

Heat safe to 450 degrees F.

Each handle features a hanging hole for easy storage

Now you can use your precious non-stick cookware without worrying about damages and scratches

Easy To Clean, Easy To Store

Outstanding quality that will definitely last

Comes with a hanging hole on each end for easy carriage and storage
We use Encrypted SSL-Security to ensure that your Check-Out information is 100% protected.

Click PURCHASE To Order Yours Now!